Well, a day and a half. George Soros made $19 million dollars in "thirty six hours." It was essentially a bet on currency value. He won.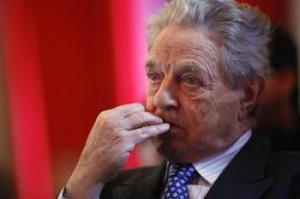 The winner, George Soros.
The action this time started on Monday, when a major foreign exchange (FX) trader in Hong Kong took a $US1 billion placement order for the Australian dollar, a ''short number'' of $US1.0373 and a settlement time of 36 hours – just after the RBA announcement.

Those trades were placed via Hong Kong and Singapore, and were believed to be placed by Soros Fund Management.

The Australian dollar was trading at $US1.0320 on spot markets at the time, but fell on the back of bad jobs and retail data.

Brokers – whether they be trading stocks or forex – are talkers. Not long after the $US1 billion was placed, the Aussie dollar slipped from $US1.0284 to as low as $US1.0222 in offshore trade, amid unconfirmed rumours that Soros was planning a raid on the dollar ahead of yesterday's interest rate announcement.

''Someone … seems to be betting on a rate cut," said one Sydney-based FX trader yesterday. "I've heard the George Soros rumour … a billion dollars sounds like a lot, but it's not enough to move the Australian dollar and it's not a lot for George Soros, but there is a play happening in the FX market. If it is him, it's probably a bet on a rate cut. These days a billion bucks can't do much to the Aussie.''

George Soros, 82. He was mistakenly
declared dead three weeks ago.
Soros enjoys destroying national currencies, and taking down nations through devaluing their money. He first identifies "oppressive regimes," and then works at eliminating them. So, what does he consider an "oppressive regime"? America, to be sure.